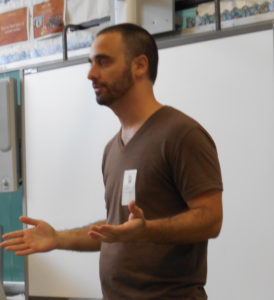 Lyle Rubin, veteran, U.S. Marines
This fall, WeAreNotYourSoldiers brought veterans to speak to students at as many schools as we visited during the height of the Iraq war.
In October and November 2017, the We Are Not Your Soldiers project visited schools in New York City. Over two weeks, we spoke to students in two colleges and five high schools. Usually, we spent the entire day going from class to class. In one school, a few classes came together for the discussion.
Sometimes we began with a short video clip from "Collateral Murder" or "Unmanned," a feature film about a young man being trained as a drone pilot who rejects targeted killing. Sometimes we began directly with the veteran's story. Students asked questions whenever they arose and felt free to speak freely, stating their points of view.
What was striking — after seeing a range of students in terms of diversity and age level and a range of schools — is how little is known about U.S. military policies, of the wars in which this country is engaged and of what is being carried out in our names. What the students heard was, for the most part, new to them.
John Burns, veteran, U.S. Army
It was interesting — and this was addressed by both veterans — that, although a lot of the students had family members and/or friends who have served in military, either in recent years or a while ago — few, if any, had talked with those relatives or friends about what they had experienced. This is generally due to the traumatic nature of those experiences which make them so difficult to talk about and why it is so important that the veterans who work with the We Are Not Your Soldiers project are willing and able to do this, which is not at all an easy thing to do. In one college class, where there were a couple of veterans, the former military members didn't say very much but nodded their heads in agreement through much of the presentation.

John Burns:
I do the We Are Not Your Soldiers visits because I feel it's important for students and young adults to have information to make well-informed decisions.  The fact that these kids are usually exposed to only one side of the story with countless movies and media glorifying war in general is an extreme disservice to the people of the United States. Given that I use these speaking tours as my own therapy should say a lot about how much the military affects you. I want to say on record that I do not hate our military. I hate what our military is being used for. I love my country and that's coming from a Haudenosaunee Native American whose own ancestors were slaughtered by the very institution I enlisted in.

Lyle Rubin:
I do the We Are Not Your Soldiers school visits because I believe I am obligated to do something like this as someone who took part in wars that I now believe are unjust. I really do believe that the kinds of classes or sessions that I am involved with in these schools makes an impact on these students. It might not convince them immediately to agree with me on everything I am saying but I really do believe I am planting a seed of doubt in most of their minds. What we need now in our society, more than anything else, is for the people in the United States, particularly our young people, to start seriously questioning the politics and policies of our government as well as all powerful corporate institutions.