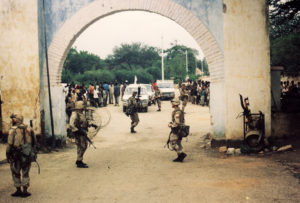 President George H.W. Bush deployed U.S. military troops to Somalia in 1992. President Bill Clinton maintained their presence and even used the offices of an oil corporation in Mogudishu to headquarter U.S. troops in Africa.
One of those solidiers was Sarah Mess, a medic at the time in Somalia.
Mitchel Cohen caught up with Sarah at a protest marking the 14th anniversary of the start of the war on Iraq Iand was greatly moved by her story …. especially as she described the effects of being forced to take an anti-malaria pill, Lariam. A number of male soldiers returning from U.S. wars in Somalia, Iraq and Afghanistan ended up murdering their wives, and many others suffer from the harrowing psychological effects of the drug, with little attention paid to them by the U.S. military.
Let's hear Sarah tell her story in her own words.  Listen here.