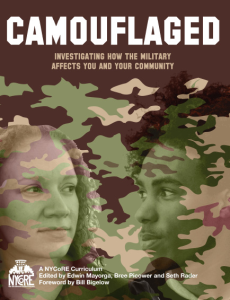 A NYCoRE curriculum guide that helps teachers educate their students as to military recruitment tools, perceptions of the US military and what exactly are "we" fighting for.
This is a link which gives a download of the  cover and beginning of the book
If you are interested you can purchase this entire book at this link.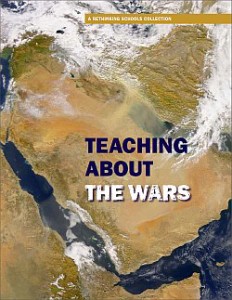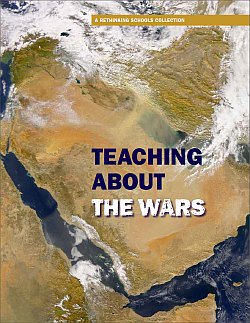 A Rethinking Schools curriculum guide, it breaks the curricular silence on the U.S. military engagement in Afghanistan and the Middle East. This collection of insightful articles and hands-on lessons shows that teachers have found ways to prompt their students to think critically about big issues.
Learn more about this book here where you can also purchase a copy.
DOWNLOADABLE MATERIALS  FOR TEACHERS and STUDENTS
Survey for the We Are Not Your Soldiers Tour:  Student Survey
This tool helps teachers and presenters know  students' opinions about the military, Army, soldiers, war, etc. before any discussion with our speakers. We do think it is important to be aware about the audience with whom we'll be speaking.
Questionnaire for the We Are Not Your Soldiers Tour:  Questionnaire
This tool evaluates the presentation and helps plan for follow-up and future work.
Quiz for the We Are Not Your Soldiers Tour:  Quiz
Want to know the truth and what the recruiters will never tell you?
With this quiz we guarantee you will learn the reality about wars, Iraq, Afghanistan, the military, soldiers, etc.
Another Quiz – This one from Veterans for Peace:  Download quiz here for your students.
Activities for the We Are Not Your Soldiers Tour:  Activities to Extend the WANYS Visit
For teachers:  Do you want to go further? Do you want to be more involved? This document will give you some ideas about in-depth activities and projects beyond the We Are Not Your Soldiers visit.
Facilitating Conversations on Military Recruitment & Resistance:  Films, articles and discussion prompts:  Download here.
Usable Quotes from Smedley Butler, Dwight Eisenhower and Muhammad Ali – download here.
ANTI MILITARY/ RECRUITING ARTICLES and  LETTERS
Afghanistan is NOT the good war, combat the lies with the truth!  WCW_Afghan_Facts_10-15_a
Letter From Ethan McCord about Recruiters and the We Are Not Your Soldiers tour: Ethan McCord Letter
Frequently asked questions about Iraq: FAQ Iraq
WE ARE NOT YOUR SOLDIERS STICKERS
Hate recruiters? Want to get this message out everywhere? Print out your own We Are Not Your Soldiers Stickers.
Put these up on the bus, on your locker, binder or anywhere you want!
See them here: WE ARE NOT YOUR SOLDIERS, WRONG ARMY WRONG
COUNTER-RECRUITMENT RESOURCES
The NYCLU's Project on Military Recruitment and Students' Rights seeks to give students, families, educators, and advocates the tools to defend their rights against overly-aggressive military recruiting.  It has links to lots of very useful resources for teachers, students and parents.
For a kit which has a number of useful materials that teachers can download to use with students, see The National Network Opposing the Militarization of Youth.